Modules by Profession - Law Enforcement
---
Videos present the basic educational content for a module. Videos can be downloaded for inclusion in your organization's LMS - look for the Download Media section on each video.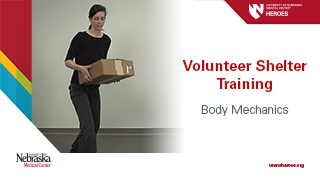 - Published: 08/06/2013 | Duration: 03:31
This video provides a demonstration for volunteers at a general population shelter of the appropriate way to use body mechanics when assisting individuals.
This is part of a series of Volunteer Shelter Training videos produced in collaboration with the Physical Therapy program at UNMCs College of Allied Health Professions.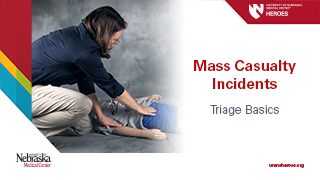 - Published: 08/30/2011 | Duration: 07:13
START Triage is a system designed for emergency medical response in disasters where there are multiple victims.
START stands for Simple Triage and Rapid Treatment.
In this video Beth Beam, RN, MSN covers the key concepts behind the process and what you should and, perhaps more importantly, should NOT be doing during the triage process.
At the end join students of South East Community College as they practice the process during a simulated mass casualty event.
Interactive Learning Modules can either present new material, or be games or quizzes that test your understanding of material in one of our videos.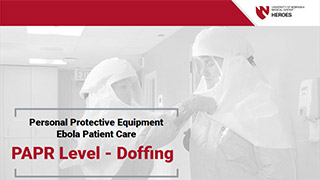 - Published: 03/09/2017
In this module we test your knowledge of the steps involved when doffing PAPR Level Biological PPE for Ebola patient care, as used by the Nebraska Biocontainment Patient Care Unit and demonstrated in the accompanying video.
Remember:
A doffing partner should verbally cue and support the doffing process.
The doffing partner wears the same level of PPE as the doffer.
You can download a printable version of the High Level Doffing steps from the Printed Materials section of the HEROES website.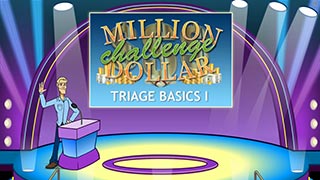 - Published: 08/05/2014
Test your skills triage skills.