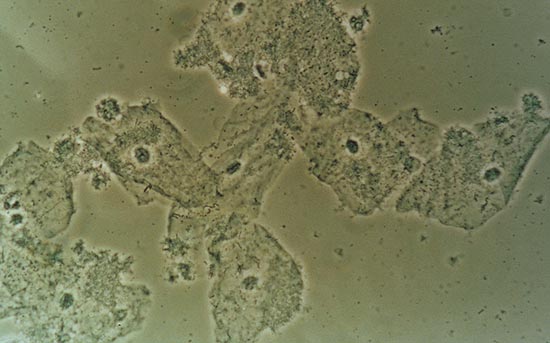 Home
Overview
Student Responsibilities
NAP

Bacterial Vaginosis
Chlamydia
Gonorrhea
HIV
Syphilis
Trichomonas
Vulvovaginal Candidiasis

Forms
Quiz
CDC STD Guidelines
Etiology:
BV is the replacement of normal vaginal hydrogen peroxide producing Lactobacillus species with anaerobic bacteria (e.g., Prevotella species and Mobiluncus species), Gardnerella vaginalis, and Mycoplasma hominis.

Symptoms:
BV is the most prevalent cause of vaginal discharge or malodor. However, up to 50% of women with BV may not report symptoms of BV.

Diagnosis (requires three of the following four symptoms or signs):
1. A homogeneous, white, noninflammatory discharge that smoothly coats the vaginal walls;
2. The presence of 20% or greater of clue cells on microscopic examination (epithelial cells with borders obscured by coccobacilli);
3. A pH of vaginal fluid >4.5;
4. A fishy odor of vaginal discharge before or after addition of 10% KOH (i.e., the whiff test).

Treatment:
Metronidazole 500 mg orally twice a day for 7 days,
OR
Metronidazole gel 0.75%, one full applicator (5 g) intravaginally, once a day for 5 days,
OR
Clindamycin cream 2%, one full applicator (5 g) intravaginally at bedtime for 7 days.

NOTE: The recommended metronidazole regimens are equally efficacious. Patients should be advised to avoid consuming alcohol during treatment with metronidazole and for 24 hours thereafter. The vaginal clindamycin cream appears less efficacious than the metronidazole regimens. Clindamycin cream and ovules are oil-based and might weaken latex condoms and diaphragms.

Sexual Partners:
Treatment of male sex partner is not recommended as it does not prevent the recurrence of BV.

Follow-up:
Return visits are unnecessary if symptoms resolve. Because recurrence of BV is not unusual, women should be advised to return for additional therapy if symptoms recur. Another recommended treatment regimen may be used to treat recurrent disease. No long-term maintenance regimen with any therapeutic agent is recommended.