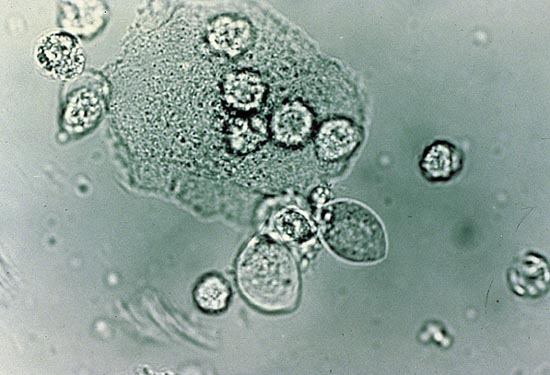 Home
Overview
Student Responsibilities
NAP

Bacterial Vaginosis
Chlamydia
Gonorrhea
HIV
Syphilis
Trichomonas
Vulvovaginal Candidiasis

Forms
Quiz
CDC STD Guidelines
Etiology:
Protozoan Trichomonas vaginalis

Symptoms:
Some men do not have any symptoms. Women may have a copious, yellow-gray or green, homogeneous or frothy, malodorous vaginal discharge with an elevated pH level (>4.5). Women may also have vulvovaginal irritation and dysuria.

Diagnosis:
By microscopy of vaginal secretions that reveal mobile, flagellated organisms and leukocytes, but this method has a sensitivity of only about 60-80%. DNA amplification is the most sensitive commercially available method of diagnosis, followed by culture.

Treatment:
Metronidazole 2 g orally in a single dose
OR
Tinidazole 2 g orally in a single dose

Notes: Patients should avoid alcohol with treatment. Retesting is recommened for all sexually activie women within 3 months because of high rate of reinfection. If treatment failure occurs, the patient should be re-treated with metronidazole 500 mg twice a day for 7 days. If treatment failure occurs again, the patient should be treated with 2-g dose of metronidazole/tinidazole once a day for 7 days. Sexual partners of patients with T. vaginalis should be evaluated and treated. Patients should abstain from sexual intercourse until completion of treatment.